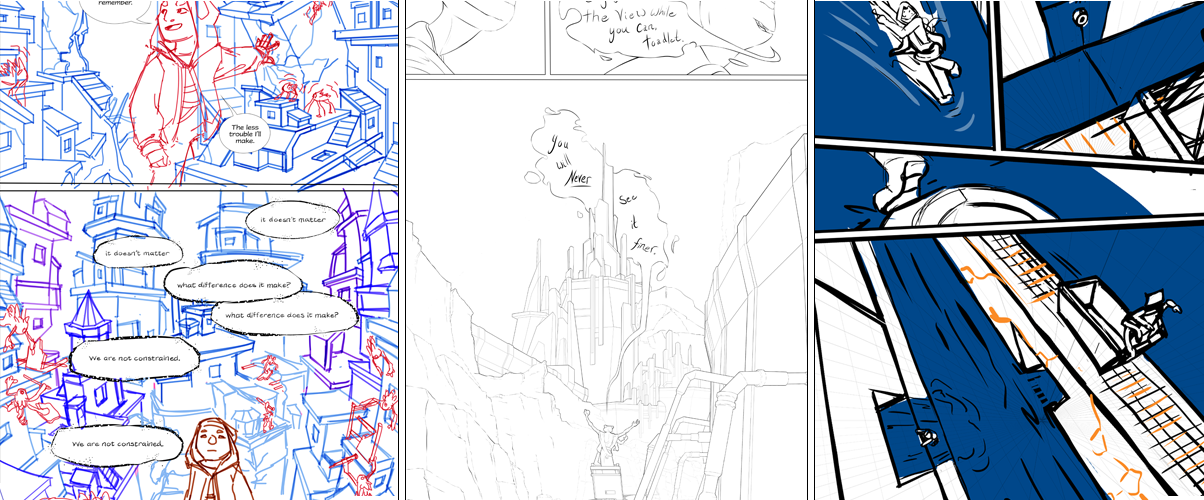 Open2D Artist Position
Posted: November/October 2021 Filled
Brief
Individual creator looking for one or more experienced 2D artists for a comic book project.
Writing and rough layouts for this 120 page comic book are done. About half of the pages have more developed pencils. The job is to take all 120 pages in their various states of completion and bring the whole book to a polished line art state. [Note: Above header is a preview of the current state of various pages.]
Job is remote, contract, and will require a 2 page paid test/audition if I am interested in seeing more of your work.
Only 2D line work art portfolios will be considered. Preference given to artists with sequential samples.
Extra Details
Overall I am going for a Franco-Belgian look: expressive, on-model character designs paired with complex and detailed backgrounds. That said, while I am very strict on requiring a certain level of polish and consistency, I am still open to various overall aesthetics and art styles. If you have a unique artistic sensibility, great!
Dedicated comic book artists are very welcome. Illustrators, vis-dev, layout artists, background designers, and similar could also be a good fit and should apply if interested.
While an indie project, compensation will be comparable to standard US comic industry page rates give or take some negotiation depending on skill level and experience. I may also decide to pair a separate character artist with a background artist to achieve the desired look.
No resume or formal cover letter needed. Just a link to your portfolio.
Contact/Apply:
Writer/Creator's Personal Portfolio: